Win a Copy of For the Love of Vinyl
The holidays are nearly here and the DRB will be, well, catching up with some holiday reading.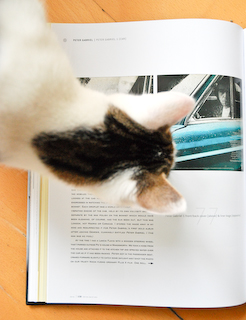 As Christmas is also the time of goodwill and generosity we are giving away a copy of the superb book, For the Love of Vinyl: The Album Art of Hipgnosis
, that we reviewed last week because we liked it so much. Rest assured, we won't be giving away our copy of the book, but a brand spanking new one sent via Amazon.
You don't get something for nothing, however. The winner of the copy of the book will be chosen from the best comment to this post answering this question:
What is your favourite album cover and why?
Is the striking cover art? The memory of shoplifting it as a teenager? Or is was it the anthem to that holiday romance? Tell us your stories.
Post a comment below and feel free to include one link to an image of the cover somewhere (but don't go crazy with the links otherwise you will trigger the spam filters).
The competition closes on December 24th and we will send the book in the New Year to help you with those post-Christmas blues. The Editor's decision on the winner is final - no complaining.
[UPDATE: You might want to make sure your cover of choice is not one of these.]