Designers Don't Have Influences by Austin Howe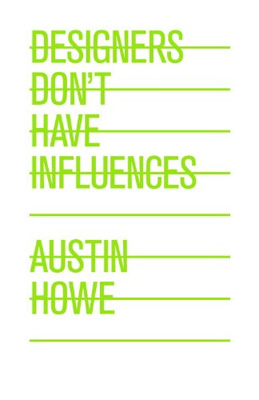 I had better start by owning up to not having read Designers Don't Read by Howe - I had seen lots of press for it but never got round to picking up a copy. So I have come to his second book without reading the first, but Designers Don't Have Influences (Amazon US|CA|UK|DE) is stand-alone and can be picked up without any prior knowledge of Howe or his writing.
Designers Don't Have Influences is a collection of short essays on people that have influenced Howe throughout his successful career in advertising. Rather than write about people working directly in his field Howe writes about all sorts of people from various disciplines. He writes in the forward:
"My basic premise is that we can often learn more from people in other disciplines than we can from our own"
This really resonated with me. As a designer my own influences are often from beyond my profession and can be divorced from their context. Howe's introduction had already got me excited about reading on.
"Disclaimer: this book is not an exhaustive compendium of every notable author or artist or inventor or entrepreneur. It's really more of a random collection of individuals who have impacted me in some way - people I think most designers would probably appreciate knowing a little more about."
There are no work samples in the book - Howe explains that Designers Don't Have Influences follows in the "spirit and tradition of Norman Potter's little gem, _What is a designer: Things, Places, Messages_" (a book I would also recommend, Potter is a great influence on me). Howe also explains that he wanted to dismiss the idea that designers don't read - hence the title of his first book.
Each chapter in Designers Don't Have Influences is a self contained essay. At the start of each chapter is the estimated time it will take to read it - I loved this element (one he uses in Designers Don't Read), as I could pick up the book in my lunch time, waiting for a tube, sitting on Brighton beach, and flick to a chapter which I knew I would be able to read in the time I had. I felt I was carrying round a bunch of observations and ideas I could dip into rather than a book I would have to read from page one onwards. Each chapter has a little nugget of Howe thinking, seemingly designed to make you think a little, question a little and maybe re-evaluate your position and approach to your design work.
Some of the chapters are simply Howe's observations of the experiences of working with others in and around his industry - the chapter on Bill Cahan gives a great insight into the processes of an innovative and successful design agency and those that run it. Many of Howe's other subjects will be familiar to designers, the ubiquitous Ayn Rand gets a chapter, as do the Saatchis, Julian Schnabel, Josef Müller-Brockman and Damien Hirst, but it is the people I had never heard of that interested me the most - a great example is the chapter on François Allaire, a Canadian Hockey goalie coach. As a Yorkshireman who grew up with only a passing interest in football (my trips to Elland Road were on the whim of friends, I was never a committed football fan), there was no way I was going to have heard of a Canadian Hockey coach. Within this chapter Howe explains how Allaire re-invented goalie coaching from the ground up, and coached some of the most successful goalies in Hockey history. Howe writes about how Allaire can be an influence to someone working in the field of design:
"First of all he teaches us that it can be done, wherever and whenever it is actually attempted. That by questioning the conventions of how something has been done for years, we can find new ways of approaching it, simply by being aware, observant, ambitious."
At the back of the book, once the essays are over, there's a collection of doodle style portraits of the chapters subjects (along side a quote), credited to Aaron James. - my favourite is the starey scary disembodied Damien Hirst, but Maurice Saatchi's portrait is worth a mention. I also liked the book design and typography credited to Fredrik Averin - a seemingly modernist design subverted with bold lines striking through the words, a treatment carried through from the cover to the chapters headings.
[caption id="attachment_2177" align="aligncenter" width="320" caption="Maurice Saatchi"]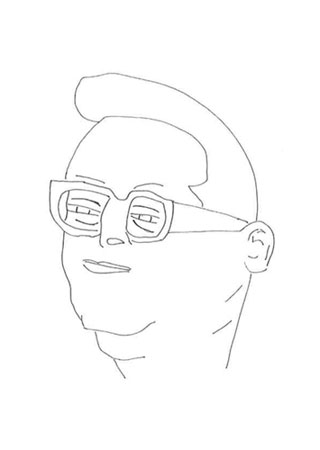 [/caption]
The best accolade I can give this book is that I already have bought his first book on the back of this one - and I will be keeping an eye on out for further publications and writing by Howe.
About the Reviewer
Owen Priestley is the Senior Art Director at digital agency Kerb and is a contributor to the arts, culture and politics blog www.20three.com. Follow Owen on Twitter – http://twitter.com/owen20three