Jazz Covers from the 1940s to 1990s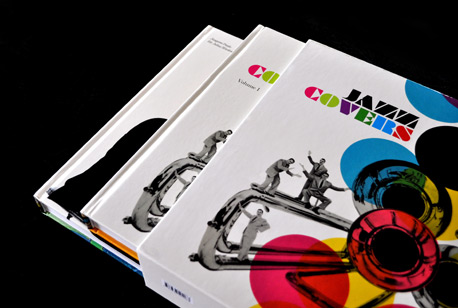 If you're a fan of jazz music or design in any shape or form it is worth your time to take a look at Jazz Covers, a recent release from Taschen. The huge two volume set contains an immense amount of visual and historical information about a wide variety of jazz album cover art created between the 1940s and the 1990s.
(Click to enlarge)
The books are in a square format, are nice and large, and are quite heavy, which gives you a good preview of the quantity of images inside. The covers span a large spectrum of jazz artists, genres and record labels. All of them have corresponding credits that include artist, title, publication year, record label, designer, and photographer where applicable and available.
(Click to enlarge)
Additionally some of them have extra excerpts of information about the artist, record label or designer, adding some insight into the creation of the actual cover.
A jazz fan in his teens, Paul Bacon took up playing the ukulele. He moved from New York to Newark, New Jersey, where he befriended fellow jazz aficionado, John Hermansader, with whom he would join the Blue Note design team after WWII. Bacon cleverly arranges Paul Weller's double portrait of trumpeter Kenny Dorham, emphasizing the album's title.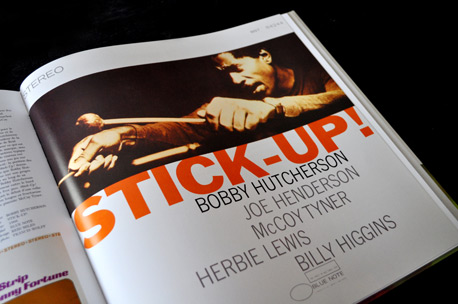 (Click to enlarge)
The book is laid out well, with each turn of the page bringing something new and unexpected. This allows you to really immerse yourself in the visual culture that surrounded the covers and get a good sense of the era in which they were created. The beginning of each book also contains several interviews with notable producers, art directors and record store owners.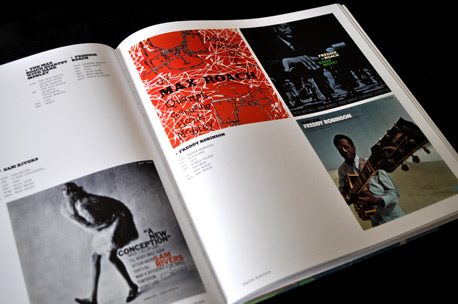 (Click to enlarge)
Both volumes would make excellent coffee table books, but may leave you wanting for more if you are particularly a fan of design or jazz music. There seems to be little structure throughout and no discernible difference between the two volumes, which makes it hard to remember where you saw what. However, the great visuals and production quality go a long way to make up for the missing organization.
(Click to enlarge)
Overall the books are a thorough compendium and an excellent visual resource. They do a great job of providing a complete overview of the many album covers produced during the time and provide a wealth of inspiration for jazz lovers and designers alike.
Jazz Covers is published by Taschen and you can purchase it from Amazon (US|UK).
About the Reviewer Dominic Flask is a designer by nature, a teacher by application and a thoughtful companion by friendship. You can view his design portfolio here, his place of work here, and his in progress work here.