The Print Handbook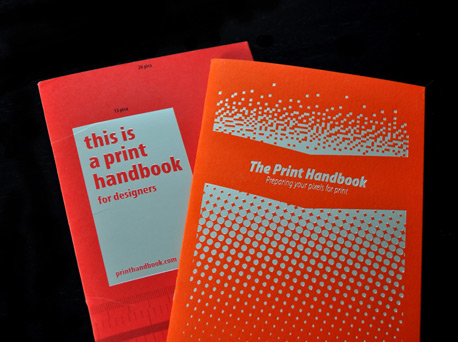 (Click to enlarge)
In the world of graphic design there comes a point when your skills are really put to the test, and that's when your work comes rolling off the press completing the transition from digital to tactile. Hopefully things go great and everything looks just as it did on screen and exactly as you expected it, but that's definitely not always the case. To help you cut down on those times when things don't come out looking just right you might want to pick up a copy of The Print Handbook.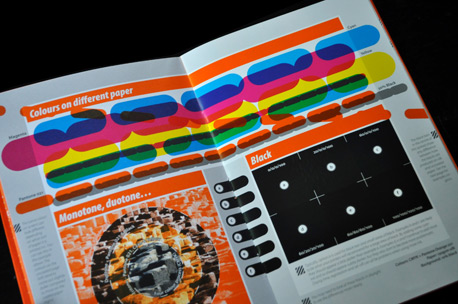 (Click to enlarge)
The Print Handbook is packed full of all of the print production basics as well as a great many of the advanced techniques you might want to consider when designing or setting up a document for print. A brief list of some of the contents include information on crop marks, bleeds, line weights, paper choices, paper sizes, resolutions, trapping, overprinting, file types, and color profiles, just to name a few. The topics are covered by showing examples and offering brief descriptions next to the examples.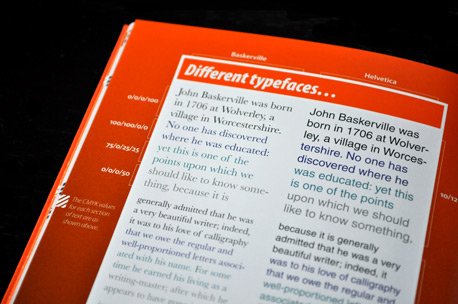 (Click to enlarge)
Currently in its 2nd edition, The Print Handbook has been totally redesigned and expanded to offer even more content than it did in its prior incarnation. Sporting an all new cover printed on a 300gsm Keaykolour Tangerine stock, the new material includes much more on typesetting specifics as well as some refined data on color and new samples of printing resolutions.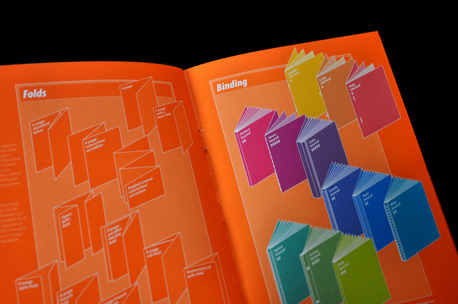 (Click to enlarge)
As might be expected, the print quality is excellent. A variety of different paper stocks and printing techniques are used throughout to show the differences between paper weight and finish along with the process used to print the material. The thick cover stock is foil blocked to add that extra touch of quality and print specs for everything are included on most pages throughout the book.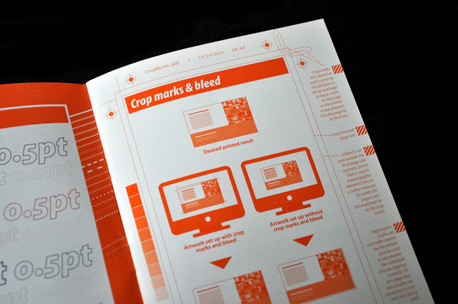 (Click to enlarge)
I certainly wish that I would have had a copy of this little orange book when I started my career as a professional designer, it would have saved me some certain headaches. The added content in the current addition makes it more than worth the £5 that it costs, anyone with a printing deadline in their near future should consider picking up a copy.
The Print Handbook is published by The Media Collective. Purchase it, as well as other nifty products, at www.printhandbook.com.
About the Reviewer Dominic Flask is a designer by nature, a teacher by application and a thoughtful companion by friendship. You can view his design portfolio here, his place of work here, and his in progress work here.