A Smart Guide to Utopia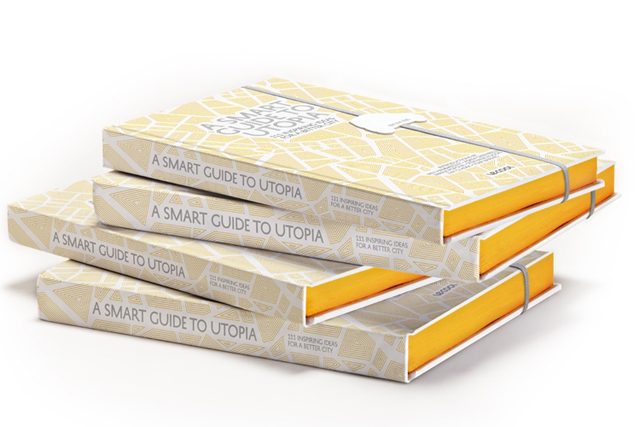 There's a horrible cardboard car on a rubber band wrapped around this lovely book. Ewww. What's that doing there?
Never mind, I'll chuck that and just get on with admiring an exquisitely designed thing. The sort of printed thing with so much attention to detail (well hello there yellow page edges) and physicality (and hello to you, silver bookmark ribbon) that you remember there is still plenty of life in books, if designed with love.
So what is this glorious yellow and silver book anyway, this Smart Guide to Utopia? It's a collaboration between Le Cool and Smart (makers of those dinky little city cars), a "compendium of practical ideas and initiatives for a more liveable, loveable city". You'd think that this would just be an excuse for a glorified car sales brochure, but to their credit, the Smart brand is very low key. Aside from a single logo on the back page and that horrid (but easily removed/incinerated) cardboard car, at no point does the book smack you around the head with its origins.
What it does assault you with is ideas from around the world – short pieces on collaborative spaces and pop-ups, grassroots green initiatives, urban farms, cafes on top of multi-storey car parks, apps that enhance the city experience – interspersed with short, optimistic essays from the likes of Maria Popova and Ben Hammersley (who almost slips into a bit of Starship):
Our cities have problems, it is true, but we can overcome them. They're ours for the taking. We built these cities, and we can repair them too. This book touches on how. After all, with a city comes hope. And with hope, anything is possible.
"Short" is definitely what you're getting here, and in a good way: this is a book for dipping into, for plonking a bite-size chunk of good idea-iness into your head when you've got a minute to spare. There's nothing in this book to tax your brain too much, but's that's intentional: this is meant as a starting point for further exploration of projects and cities. It's a 2012 idea catalogue.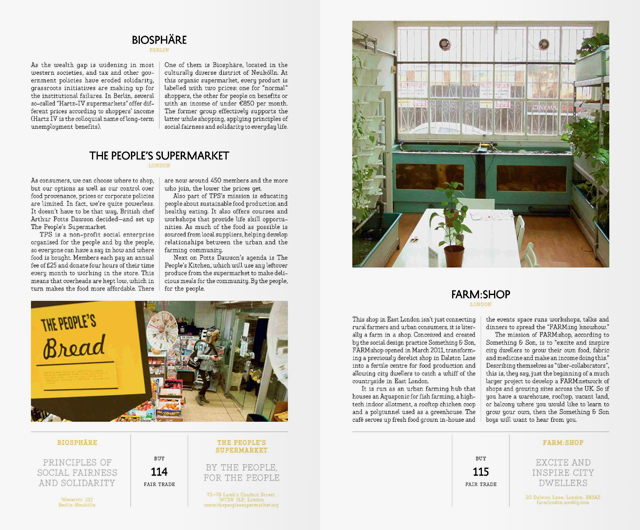 One slightly frustrating thing about this structure is that it reads like a blog, which can sometimes make it a frustrating read – the content encourages further exploration, and you'll find yourself wanting to click on cities and tags to see nearby or related proje``cts.
It's for the best though: there are a few website and app recommendations in the book, but this book isn't just about sending you back to stare at a screen for the rest of the day. Encouragingly, the colour photos throughout illustrate that the utopia this book is embracing is one filled with communities of people, surrounded by greenery and living under a blue sky.
So yes, it feels a bit like an archive of a website, but this is a minor quibble. With the wealth of positive work inside, and the sheer printiness of it – did I mention how lovely and inky this book smells? – this is something you'll be glad to get your hands on.
A Smart Guide to Utopia was designed by onlab, is published by Le Cool, and is available from their website.
About the Reviewer
Daniel Gray lives in York, where he designs things, writes stuff and eats halloumi. Lots of halloumi.